Woodworkers Insurance in Oklahoma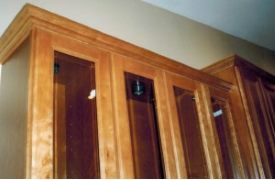 No matter which industry you work in, a good insurance policy is crucial to protecting your business. Woodworking, in particular, is a profession that comes with a lot of risks. Thompson Agency is a top provider of woodworkers' insurance in Oklahoma. We cover all types of companies and deliver superior service to each of our clients.
Insurance for Woodworking Businesses
Workers' compensation is one of the most important coverage options you should consider when choosing your policy. Woodworking may involve large machinery, power tools, and heavy lifting, which can leave your employees open to many sources of danger. Our workers' comp coverage makes it possible to take care of your team members should a debilitating injury occur.
We can also protect your product and property from devastating losses. These may be due to natural disasters, such as storms or flooding, but malfunctioning equipment and employee error might also contribute to costly damages. Our property insurance for sawmills and other lumber businesses provides coverage in these circumstances.
Other Types of Coverage
Auto insurance can be critical to woodworking professions where products must be shipped elsewhere. For example, cabinet manufacturers make a lot of deliveries to both wholesale clients and direct consumers. Auto insurance can help you prepare for accidents on the road, so you can avoid expensive vehicle repair costs or medical expenses due to collision injuries. These concerns also apply to lumber yard insurance. Bulk deliveries make transport coverage necessary.
Thompson Agency can help you find the policy that works best for you. Woodworkers' insurance in Oklahoma can include many factors, and our dedicated agents focus on the aspects that pertain to your business the most.
Call us today to discuss your insurance needs. We'll identify your immediate concerns and structure a complete policy that addresses any problem you anticipate. We can also advise you on how to reduce risk in your business and keep your premiums low in the long term.