Self-Storage Facility Insurance in Oklahoma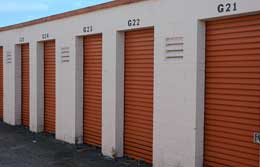 Self-storage business owners face unique challenges. Tenants may use storage units for inappropriate purposes, and there may be no evidence of wrongdoing from the outside. When issues of illegal or destructive activity arise, having self-storage facility insurance in Oklahoma is important. Thompson Agency can protect you in these unfortunate situations as well as provide you with other basic insurance needs such as general liability and property protection.
Property Damage
Your property stores countless valuable items for your tenants, which makes the facility a popular target for thieves. Each tenant should insure their own personal belongings, but you'll need coverage to protect your property from burglars. Doors or walls may sustain damage as thieves try to gain access to units. If you have a substantial security system in place, these components may be destroyed by a motivated criminal.
In addition to this intentional destruction, your property may require repairs following accidents or natural disasters. Our companies provide substantial coverage in these situations as well. You can rest easy knowing your property is covered.
Self-storage property insurance from Thompson Agency can help in these unfortunate situations. Our comprehensive coverage can help you restore damaged units as quickly as possible.
When storing the belongings of others, you also may run into situations where a tenant abandons their items. We'll cover the cost of debris removal and haul-away services so that you don't have to pay out of pocket for negligent renters.
Employee Protection
Like any business, you have a staff of employees to help you run the daily operations. Protecting yourself against employee theft and dishonesty is just as important as workers' compensation coverage. Thompson Agency companies provide self-storage owner insurance that includes these important features.
Request your quote from Thompson Agency today. We'll connect you with one of our dedicated companies to provide you the best self-storage facility insurance in Oklahoma. With our complete insurance packages on your side, you'll be prepared for any situation at your self-storage business.