Business Insurance Agency in Oklahoma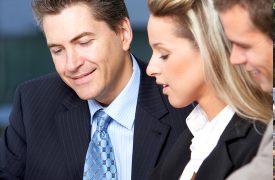 Every organization has its own unique challenges. Our business insurance agency in Oklahoma is committed to providing your company with a personalized insurance package that can tackle these challenges. At Thompson Agency, we structure a plan that meets the needs of your business and bring in the best insurance companies to execute your policy.
All Types of Business
We craft insurance plans for small- to medium-size businesses and large corporations alike. No matter how many employees you have or how large your client base is, we can provide reliable protection to secure your assets and keep you in business.
Your commercial insurance policy should cover all potential risks you encounter in your operation and fully protect your property, employees, and clients. Whether you're dealing with a client issue or employee injury, general liability policies lend support in costly lawsuits. Workers' compensation insurance is a necessity if you employ even a small staff of workers. Regardless of your needs, Thompson Agency will help you find the right risk management insurance to mitigate these risks.
All Industries
We've assisted companies in all industries, from nonprofits to service businesses. Our agents do more than broker your policy; they also offer expert insurance guidance that applies specifically to your industry. You'll have a team dedicated to your business, so you can rest assured you'll end up with a plan that suits your unique risks.
With your new policy in place, Thompson Agency can also help you keep your premiums low. We're experts in the insurance business, so we excel at predicting and managing risk. Our clients have used our recommendations to decrease the probability of costly claims, which ultimately improves employee trust and customer loyalty.
Let us know how we can help you protect your organization. We're the most attentive business insurance agency in Oklahoma, serving our nearby Ada clients and those in surrounding areas. Contact Thompson Agency today to request a quote for your commercial insurance policy.