Restaurant Insurance in Oklahoma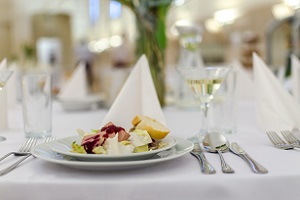 Restaurants and bars are staples in almost every community. They supply customers with one of life's most basic necessities: food. Running a food service business can be a tough task, but Thompson Agency can make it easier. We specialize in restaurant insurance in Oklahoma, covering risks to your employees, your building, and your inventory. We also offer liquor liability for bars and taverns. Let us help you protect your fine dining or family restaurant.
Employee Coverage
A restaurant kitchen presents many risks. Between deep-fryers and sharp knives, injury to your kitchen staff is a very real possibility. The restaurant or bar insurance policy you have to cover these situations can make the difference between long-term success and an early shutdown. One small kitchen mishap can lead to a lengthy legal battle if the injury is significant.
Thompson Agency can protect your employees and reimburse medical costs, so you don't have to.
Establishment Coverage
Well-functioning restaurant equipment is vital for smooth service. When a refrigerator, stove, sink, or other appliance breaks down, the entire assembly line can become chaotic. Food may spoil, dishes may get backed up, or items may take longer to cook. One bad night can lead to several more if you're not able to repair or replace the equipment in a timely manner.
Our food service insurance agents understand how costly these problems can be. When you experience a devastating equipment failure, we'll respond quickly to help you resolve it as soon as possible.
Thompson Agency can also protect your establishment with property insurance. We'll cover any damage to your building, whether from storms or other accidents. Our restaurant liability insurance is extensive, protecting you in almost any unexpected situation.
Don't wait to get restaurant insurance in Oklahoma for your establishment. Request your quote today, and our agents will help you devise a policy that keeps your restaurant doors open for years to come.