Special Event Insurance in Oklahoma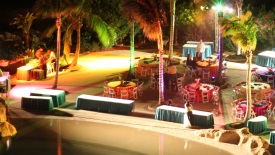 In some cases, you may only need insurance coverage on a temporary basis. Thompson Agency offers special event insurance in Oklahoma to provide protection in these unique circumstances. Depending on the focus of your event, we'll craft a plan that covers any incident that might occur.
Types of Events
Whether you require coverage for a one-day athletic competition or need wedding event insurance, we can provide comprehensive packages. If you want to plan a staff training day or team-building retreat, we have corporate event insurance policies to help the day go smoothly. Our companies can also assist you with coverage at any of these types of special events:
Fairs

Festivals

Corporate gatherings

Competitions

Parties

Concerts
These are only a few examples of the scope of our event liability insurance. If you have a one-day event planned, we can evaluate your needs and craft an insurance plan that covers any potential risks you may encounter.
Coverage Options
We offer general liability to protect you in case staff or attendees sustain injuries during the event. If you're renting the venue, this coverage can also take care of any property damage that might occur. Many public event venues require insurance for this reason, and our dedicated agents can help you satisfy this requirement with ample coverage to keep you secure in any crisis.
If you plan to serve alcohol at your event, you may need additional coverage. We recognize this need and take it into consideration when structuring your package. You can count on us to account for every detail in your policy, so you can enjoy your event without worry.
Request a quote early to finalize your one-day event insurance well in advance. Once you have your policy in place, you'll be able to focus on perfecting the details of your day. Thompson Agency staff is ready to provide your special event insurance in Oklahoma. Call us today to learn more about our services.