Church Insurance in Oklahoma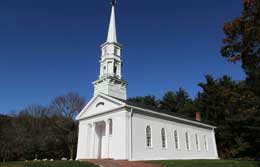 Unexpected catastrophes can put your church at risk if you don't have a comprehensive insurance policy in place. Thompson Agency offers full-service church insurance in Oklahoma, whether you're located in Ada or other nearby areas. We'll help you prepare for the unpredictable with our extensive property and liability coverage.
Risks We Mitigate
Our church insurance companies protect the people and property of churches, mosques, and synagogues. Our coverage can give you reassurance in many circumstances, including in the following situations:
Natural disasters

Vandalism

Theft

Equipment damage
Your building may face damage in several ways, and our policies are there to support you. We can set you up with an all-inclusive property damage policy to cover any type of destruction, whether it's an act of God or a criminal act.
In addition to your building, we can insure the private and public property within its walls. We'll protect the personal effects of your pastor or any other administrative staff, along with your office and audiovisual equipment. If your church provides transportation or delivery services for your parish, we can help with auto insurance for your vehicle.
Injury and Liability
As part of our package, we'll also incorporate church liability insurance as a means of general protection. Your church is a public facility, so you frequently run the risk of personal injury on your property. If your staff, parishioners, or visitors sustain injuries, a policy from Thompson Agency will have your back.
Insurance for religious organizations should also include extensive medical coverage for accidents that may occur during any event on or off your property. From church retreats to recreational gatherings, you'll be protected everywhere. We can also assist with workers' compensation policies as extra coverage for your staff.
Reach out to our expert agents at Thompson Agency today to start protecting your church. Our church insurance in Oklahoma covers every aspect of risk in your organization, so you can worship in peace. We'll provide all the support you need in cases of disaster