Trucking Insurance Companies in Oklahoma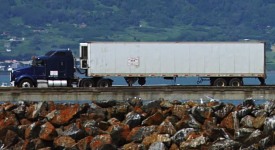 Truckers travel all over the country, but if your home base is in Ada, Oklahoma, or in any of its surrounding areas, such as Denison or Seminole, we can help you with extensive coverage. At Thompson Agency, we offer general liability and auto insurance for trucking businesses and owner-operators. Our trucking insurance companies in Oklahoma provide high-level service with coverage packages that protect you for unlimited miles.
General Liability and Collision Coverage
With the amount of hours they spend on the road, the risk of collisions is high for truckers. No matter how careful the driver, an accident can result in expensive damages. The law requires drivers to have auto insurance, but Thompson Agency gives you superior coverage with premium customer service to match. We can step in to cover any property repairs, which may include repairs to vehicles and public or personal property.
As a trucker, you also transport freight over long distances. Lost or damaged shipments can lead to unhappy customers and devastating financial liability. Coverage of your trailer and its cargo is included with our reliable insurance packages, and you'll be protected if dissatisfied clients pursue breach-of-contract lawsuits.
When structuring your policy, we use our network of reliable trucking insurance companies in Oklahoma to provide you with the most comprehensive coverage possible. If you have a large trucking operation in need of coverage or if you need owner-operator insurance, we can help you get the policy you need.
Bobtail Truck Insurance
If you're an independent trucker, bobtail insurance can cover you if you use your vehicle for non-trucking purposes. Our limited-liability coverage includes any property damage and personal injury that occurs while you're driving your truck off-duty.
As a leading insurance agency, we work with the industry's top trucking insurance companies in Oklahoma. We'll cover you wherever your journey leads. Contact us today to get a free quote, or ask us more about our commercial truck insurance.